BUMBLE AND BUMBLE – HAIRDRESSER'S INVISIBLE OIL MASQUE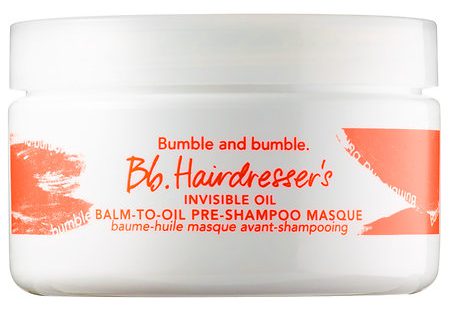 Balm-to-Oil Pre-wash Mask
Capacity: 100 ml
Price: $30
We couldn't imagine this ranking without Bumble & Bumble – an untypical hair mask. What makes it untypical? The formula has been composed so that you don't need to use it after shampooing. This is the only product in the ranking which needs to be used as a pre-wash treatment. The manufacturer points out that this application method is inspired by the way of using natural hair oils. What should you know about the Bumble and Bumble Hairdresser's Invisible Oil? It merely hydrates and nourishes the hair so it can't be on top of the ranking featuring the best masks for damaged hair – its effect is less intense when we compare it to other masks here. This product isn't an intensive hair-care treatment for two reasons: the formula doesn't contain strongly-working substances and the ingredients aren't highly-concentrated.
Rating
Effectiveness -

72%

Composition -

53%

Package -

70%

Consistency -

71%

Price -

54%
ANALYSIS OF INGREDIENTS
As the name suggests, the Bumble and Bumble Hairdresser's Invisible Oil is based on oils that are typical of the brand: coconut oil, macadamia oil, almond oil, safflower oil and grapeseed oil. We must point out that all of the oils are natural and the mask is vegan so it surely appeals to the fans of eco-friendly hair care. Thanks to the oils, Bumble and Bumble Mask keeps the hair hydrated and protects against harmful factors. The product is free from mineral oil which causes damage to the hair and scalp but it contains coconut oil which isn't safe – its large amounts may weigh the hair down because its content of fatty acids is the most suitable for low porosity hair (the most rare hair type). Thankfully, other five oils maintain the balance so the composition seems to be fine.
PRODUCT DETAILS
Apart from the ingredients and untypical application, there's another thing that makes the Bumble and Bumble Hairdresser's Invisible Oil different from other masks in this ranking – this mask is thicker so it doesn't work for all types of hair. The butter-like product is dissolved after warming it up between the palms and it may be slightly problematic during the application. Smoothing the mask over the hair might be a challenge especially if your hair is very thin and fragile. We must point out that the consistency and the small-sized container means you use it up very fast. Considering the price – this isn't a budget option. It's better to invest the money in a product that gives more benefits, works better and is easier to use.
ADVANTAGES:
a blend of 6 natural oils
vegan and eco-friendly formula
effective protection
maintains hydration
DISADVANTAGES:
coconut oil (unsuitable for some types of hair)
thick, butter-like mask
it may weigh the hair down
it's one of the priciest masks
a small-sized container