COLLISTAR – SUBLIME OIL-MASK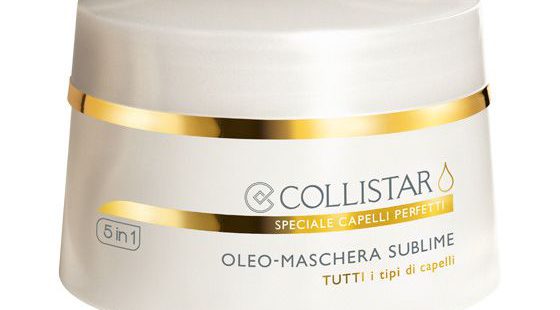 5in1 mask for any type of hair
Capacity: 200 ml
Price: $15
Collistar Sublime Oil-Mask for all hair types is one of the best-sellers. It's picked mostly by the fans of luxury products that arouse positive emotions at the first sight. Nice packaging isn't enough, though. The effect matters the most and in the case of Collistar Sublime Oil-Mask the effect depends on the individual predispositions. This multi-purpose hair mask is marketed as a nourishing-repairing treatment.
It works in five ways: repairs, smoothes, nourishes and hydrates, protects, as well as improves the appearance of the hair. You shouldn't bargain for fast results, though. Collistar Sublime Oil-Mask works pretty slowly so you might feel disappointed if you expect immediate effects.
Rating
Effectiveness -

90%

Composition -

89%

Package -

100%

Consistency -

92%

Price -

94%
ANALYSIS OF INGREDIENTS
What is the Collistar Sublime Oil-Mask made up of? By looking at the elegant packaging you probably hope for the quality ingredients. And actually there are a few. Plant-based collagen, which has a strengthening effect and aims at repairing damaged hair, is the first one. Linseeds – in two forms – are next: linseed oil and linseed extract. They nourish the hair and add resilience. Plus, the mask includes a very beneficial shea butter which leaves the hair soft and prevents the loss of moisture yet it weighs the hair down when used in excess. Among the interesting ingredients there are also two essential oils: ylang ylang and geranium oils which are supposed to stimulate hair growth but you must remember that essential oils may cause the scalp irritations. All in all, some ingredients in the Collistar Sublime Mask are beneficial while the others may be worrying. Hands down, this isn't a good mask for sensitive scalp and fine, fragile hair – apart from the above substances, the product contains quite a lot of synthetics, preservatives, emulsifiers, aromas, etc.
PRODUCT DETAILS
The consistency of the mask shouldn't make the application tricky. This isn't the thickest hair mask ever made but it is likely to overload the tresses when used in excess, particularly if your hair naturally lacks volume. You need to rinse the Collistar Sublime Oil-Mask thoroughly so that it isn't left on the hair and everything should be fine. The mask boasts a very nice fragrance composition but it surely won't appeal to allergy sufferers. Reviewers highlight that one container lasts very long – the mask is easy to use and you don't need much even on long hair. The application is effortless so every user will handle it. Summing up, the mask makes a good impression.
ADVANTAGES:
plant-based collagen
formula enriched with oils and plant extracts
nice aroma
elegant packaging
the mask lasts pretty long
DISADVANTAGES:
a pretty high price
a bit too heavy, overloading formula
unsuitable for the sensitive scalp