WELLA SP LUXE OIL KERATIN RESTORE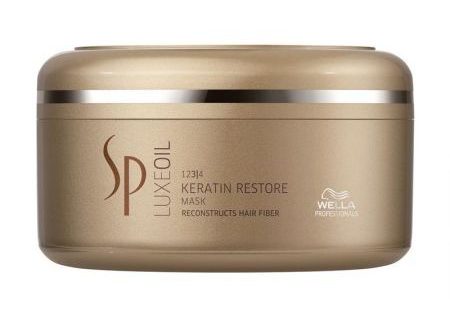 Keratin restoration mask for hair needing repair
Capacity: 400 ml
Price: $20
Wella products are labelled as professional because they are used by plenty of hairstylists. It's little wonder than that the mask comes third in this ranking. Wella Sp Luxe Oil Keratin Restore is a popular choice for the damaged-hair repair. When we see keratin in the name, we hope for spectacular hair-rebuilding effect. In reality, the mask from Wella doesn't necessarily deliver on the promises stated by the manufacturer – the result depends on the starting state of your hair and the level of damage. If your hair looks like it needs the scissors, this mask won't help. This hair-repairing mask mostly aims to rebuild damaged hair structures, add resilience, softness and shine. It enhances the natural repair yet it isn't a substitute for the in-salon keratin smoothing treatment – many users buy this mask hoping for such salon-like effects. The Wella mask works well but it doesn't work wonders so don't believe all the promises on the label.
Rating
Effectiveness -

86%

Composition -

96%

Package -

88%

Consistency -

92%

Price -

93%
ANALYSIS OF INGREDIENTS
The ingredients should be noteworthy considering the high price of the mask. What's inside the formula that makes it so pricey? There are a few oils including argan oil, almond oil and jojoba oil – probably the most popular oils added to hair products but they don't cost that much to make the Wella Sp Luxe Oil Keratin Restore so expensive. Still, the content of natural oils is a big plus: oils are emollients that maintain the optimal levels of hydration, protect the hair against the external aggressors and leave the tresses smoother. The liquid keratin (hair-rebuilding protein), though, plays the key role. Is there enough keratin to have a noticeable effect on the hair? The Wella mask is based on keratin and thus has a repairing effect, however, its amount in the product isn't big so you shouldn't expect instant effects; you need a longer treatment.
PRODUCT DETAILS
There are mixed opinions about the consistency, aroma and application of the mask. Many users say that the Wella Sp Luxe Oil Keratin Restore Mask has a beautiful scent and that's why it's nice to use while others complain about strong suffocating aroma (this is an individual issue and depends on the fragrance we use on a daily basis). The mask isn't too thick and it spreads easily. Of course, you need to rinse the product so it shouldn't overburden the strands; unless you don't rinse it thoroughly enough and the mask stays at the roots of the hair – this leads to loss of volume. Speaking of volume, if you're looking for a mask which repairs, beautifies as well as adds volume to the hair, this mask doesn't make a good pick. Generally, the Wella mask is noteworthy but it must be pointed out that the effects will be different for different users and types of the hair.
ADVANTAGES:
the mask contains repairing keratin
enriched with three natural oils
a big size, the mask works for a long treatment
it easily spreads on the hair
interesting fragrance composition
effective strengthening
DISADVANTAGES:
the price could be lower
it may leave the hair flat and limp-looking
it doesn't replace pro keratin treatments
some users don't like the intense aroma