KALLOS – Hair PRO-TOX Hair Mask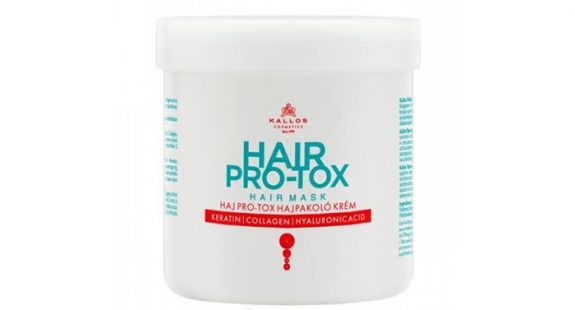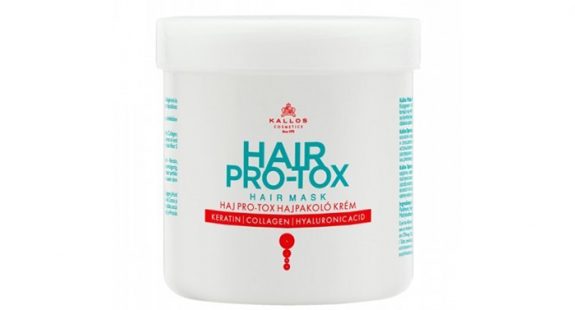 Hair mask with keratin, collagen and hyaluronic acid
Capacity: 1000 ml
Price – $50
Kallos hair masks are inexpensive, popular and offer a great variety. You can pick and choose. Most girls go for fruity and sweet Kallos masks but I choose Hair PRO-TOX with complex of nutrients essential to hair. The product is designed for dry, damaged and normal hair. It deeply nourishes and moisturises hair every day. Kallos Hair PRO-TOX effectively prevents split ends and regenerates damaged hair structure.
Rating
Effectiveness -

73%

Composition -

82%

Package -

65%

Consistency -

70%

Price -

95%
ANALYSIS OF INGREDIENTS
Two natural plant oils are on the fourth and fifth position among the components. The main ingredient is olive oil abounding in unsaturated fatty acids which moisturise and repair the hair. Coconut oil comes right after olive oil. It helps to rebuild the protein structure of hair. Both of them nourish the hair and the scalp. The combination of greasy emollients and antistatic agents with four key ingredients of the product gives Kallos Hair PRO-TOX its moisturising properties. Panthenol, or vitamin B5 provides smoothness and strength. Keratin is a natural building block of the hair and it can be found in Kallos mask as well. The product also offers collagen – source of youth and hyaluronic acid which intensively moisturises. There is a small amount of silicone but it is rather harmless.
PRODUCT DETAILS
The packaging is very big and uncomfortable, even for the professional hairstylist. Although I use large quantities of the product, taking such a huge jar to fashion shows is not comfortable. Luckily, there is also smaller version of the product. Otherwise, it would be quite troublesome.
Kallos Hair PRO-TOX has a thick pudding-like consistency so it doesn't drip and is easy to spread. Thick hair mask, like any other mask. Sadly, due to the consistency, the product runs out quickly. The thicker the product, the bigger amount you must apply. Luckily, the product offers low price. Hair PRO-TOX Hair Mask has white colour and very delicate soap fragrance. I prefer such scent to sweet or fruity fragrance of other Kallos masks.
Kallos Hair PRO-TOX belongs to the group of masks which provide better effects if they stay on hair longer. I always leave Kallos mask for more or less 30 minutes but models cannot wait so long before the show. However, I know that Hair PRO-TOX Hair Mask works after a few minutes, excellently moisturises and smooths the strands. Thanks to Kallos hair mask with keratin, collagen and hyaluronic acid, your hair is thick, easy to detangle and style but it isn't flat. In my opinion, the mask is perfect for home as well as professional use. If it weren't for a few shortcomings, it would be my favourite.
ADVANTAGES:
high effectiveness
fast action
concentrated ingredients
good consistency
delicate fragrance
low price
DISADVANTAGES:
uncomfortable packaging
poor efficiency
not fully natural ingredients