KÉRASTASE – Nutritive Masquintense Irisome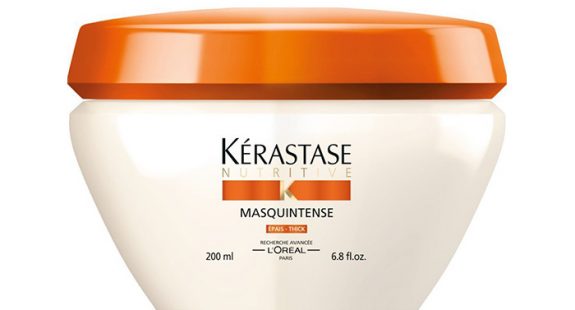 Hair mask for dry and thin hair
Capacity: 200 ml
Price: $28
Kerastase has created a hair mask for thin, stiff and dry hair. Its task is to provide hair with optimal hydration level through delivering nutrients, antioxidants and hydrating substances. Nutritive Masquintense Irisome hair mask deeply nourishes and moisturises the hair. The strands become lightweight, shiny, supple and well-kept. Sadly, the price is really high.
Rating
Effectiveness -

80%

Composition -

91%

Package -

79%

Consistency -

90%

Price -

85%
ANALYSIS OF INGREDIENTS
The action of Kerastase Nutritive Masquintense Irisome is based on Irisome Complex – the collection of substances which detect dry areas in hair. They provide complex nourishment and improvement of hair condition. Iris extract acts as an antioxidant and gives very effective protection from moisture loss.
Another important ingredient is an advanced lipid-protein Gluco-Active complex which deeply nourishes and moisturises the hair. The substance penetrates deep inside the hair and improves its condition, from the roots to the ends. Additional substances are: carbohydrates which nourish the roots, proteins which replenish the nutrients and lipids which protect the hair.
The big disadvantage of Kerastase is the fact that it is difficult to find detailed information about its products. You can find little information about the components on Kerastase website. However, I have taken a closer look at the ingredients of the product while using it and there is nothing to be worried about.
PRODUCT DETAILS
Kérastase Masquintense Irisome hair mask comes in a nice plastic jar. It is available in 500 ml capacity. The most important thing is, in my opinion, that the packaging is very handy. It doesn't have a dispenser but the mask is really efficient. As any other valuable hair mask, Kerastase cosmetic also offers thick (pudding-like) consistency, which means trouble-free application. The mask has a very nice intensive flowery fragrance.
I cannot say anything negative about Kérastase Nutritive Masquintense Irisome – it is a really effective conditioning product. My hair as well as hair that I dealt with (frizzy, oily and dry) as a hairstylist really liked the product. Kerastase mask gives the effect of thick and smooth hair. The strands are moisturised, supple and soft. Sadly, the product isn't perfect. Nice formula, well-suited ingredients but the dosing of the product is not easy. I must warn you: if you use improper amounts of the mask, it may cause frizz. It often happened to me and I had to choose the amount suitable for a specific person. It is a big disadvantage.
ADVANTAGES:
effectiveness
handy packaging
efficiency
advanced ingredients
DISADVANTAGES:
too frequent use causes frizz