KIEHL'S – SUNFLOWER COLOR PRESERVING DEEP RECOVERY PAK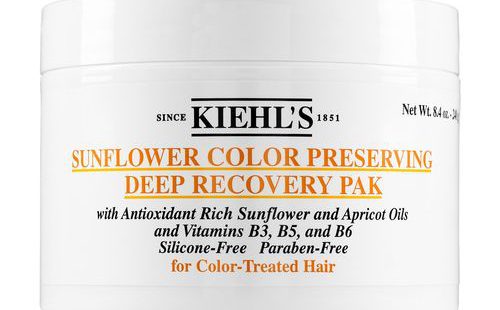 Sunflower oil mask for color-treated hair
Capacity: 250 ml
Price: $25
Another hair mask we recommend is launched by Kiehl's – the brand popular among influencers. Even though the minimalist packaging isn't eye-catching, the Sunflower Color Preserving Deep Recovery Pak is worth a try since it includes a few noteworthy ingredients. Thanks to the components the mask works well on color-treated hair, plus it delivers essential nutrients to weak strands. Is this a good hair mask? You see its position in the ranking – it isn't the best one. We could pick on the effect it gives – the mask nourishes the tresses but it fails to repair the hair. Therefore, it doesn't remedy the color-treated, damaged hair. It merely keeps healthy hair in shape, enhances the color and intensifies it, boosts shine yet it won't rebuild the damage caused by wrongly-performed coloring, for example.
Rating
Effectiveness -

82%

Composition -

75%

Package -

85%

Consistency -

78%

Price -

80%
ANALYSIS OF INGREDIENTS
The effectiveness of the Kiehl's mask is supposed to flow from the combination of two oils and a blend of vitamins. This is what the manufacturer says and the product does contain apricot seed oil (natural source of antiaging vitamin E) and sunflower oil (quite popular, highly beneficial thanks to a large content of phospholipids and ceramides) – both oils make great ingredients for enhancing the… skin. Not color-treated hair. Still, thanks to the complex of vitamins – E, B3 and B5 – the mask helps to preserve the vitality of hair and keep it from getting weaker. There are still more components. What are they? The INCI tells us there's also glycerin (hydrating saver or the worst ingredient – it depends on the hair type) and candelilla wax (an ingredient in lip glosses and mascaras, strongly lubricates and adds gloss). Generally, the selection of substances used in the Kiehl's Deep Recovery Pak is somehow weird – color-treated hair tends to be very weak so a product filled up with unnecessary ingredients isn't welcome.
PRODUCT DETAILS
The consumers confirm that the formula shouldn't be overburdening. Of course it depends on the way of using the mask – when you apply it to damp hair after washing and rinse well, it shouldn't weigh the hair down. However, using it differently or in excess may end in failure. The consistency of the Kiehl's mask makes us think of old-time masks – very thick and creamy. Now, we're used to lighter masks yet it doesn't mean that this product makes a bad choice. It simply doesn't work for fine hair because it fails to boost volume. That's the end of the downsides. The good thing is the mask smells pleasantly so the application is sheer pleasure.
ADVANTAGES:
combination of two oils and vitamins
nourishes, moisturizes and revitalizes
works for different hair types
it's easy to use
DISADVANTAGES:
the composition isn't all-natural
too weak repairing effect
a very high price
the ingredients are better for the skin-care products
the packaging isn't nice