L'ORÉAL PROFESSIONNEL – ABSOLUT REPAIR MASQUE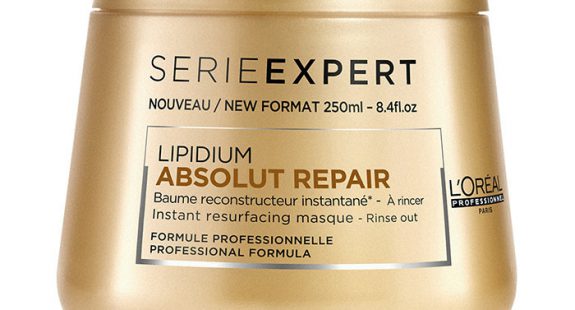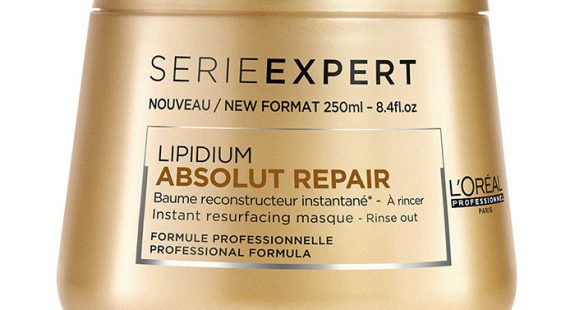 Protein-rich repair mask for damaged hair
Capacity: 500 ml
Price: $44
The L'Oreal Mask is another product in our ranking. This very brand is labeled as the leading cosmetic company despite other brands offering better products. We simply like L'Oreal because it was a top-choice among hairstylists. The word "professional" suggests that the Absolut Repair is the best hair mask. Unfortunately, it works well but it's surely not the best one. This mask gives desired effects if your hair needs nourishing. Still, you must be careful if you use it for treating damaged hair (even though it's designed for this type). This formula is made for thick hair – if you expect spectacular results, you might feel disappointed. Nevertheless, it has good ingredients, nourishes, moisturizes and strengthens the hair. It might give different effects depending on the condition of your hair. That is why the L'Oreal Absolut Repair doesn't make the best pick as far as repair masks go.
Rating
Effectiveness -

65%

Composition -

59%

Package -

85%

Consistency -

61%

Price -

85%
ANALYSIS OF INGREDIENTS
When you take a look at the list of ingredients, you probably think that the mask isn't filled up with some harmful substances, however, the "experienced eye" spots that the short list of components has very few hair-enhancing substances and abounds in unnecessary colorants, aromas, preservatives, etc. The brand definitely gets a minus for that. Still, if we investigate the ingredients, there are some positive examples such as hydrolyzed proteins of corn, wheat and soy which are essential to repair damaged hair (be careful to avoid protein overload). Unfortunately, the amount of unwanted colorants and beneficial substances is nearly the same. The bottom line is that the L'Oreal Absolut Repair Mask looks bad.
PRODUCT DETAILS
Despite all the downsides connected with the components, we must admit that the mask has some benefits as well. The container holds 500 ml of the mask which is more than enough for long months of use. If you want better hair care, though, you need to go for other products. What about the usage? Users say it's nice to use and the consistency lets the mask easily spread over the hair, plus it's rinsed easily. Note: it's dedicated to thick hair so it works best on this type – when you apply it to fine, weak hair, the mask is likely to weigh it down and take the volume away. Nevertheless, the product is a typical mask so if you follow the directions, it shouldn't cause any problems during the daily hair routine.
ADVANTAGES:
proteins of soy, wheat and corn
a large-sized container
the mask lasts long
a classic hair mask
DISADVANTAGES:
very few nutritional ingredients
plenty of colorants and artificial additives
the price is unfair
poor repairing effect
it may weigh down some hair types