MOROCCANOIL – RESTORATIVE HAIR MASK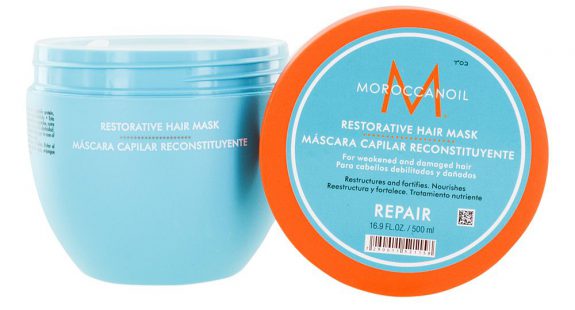 Natural mask for damaged hair
Capacity: 250 ml
Price: $40
The next product that we go through is Moroccanoil Restorative – a thing for damaged hair. Many users say it doesn't work only for damaged hair. In product reviews it is recommended for curly hair. The manufacturer says this a professional, multi-purpose product which mostly aims to repair and fix the hair. That's what we have in mind while analysing the mask. Does the Moroccanoil hair mask fulfil the promises and repair damaged hair? It surely restores the resilience, softness and healthy appearance, plus it makes the brushing easier like any other mask. If it's used on just slightly damaged hair, then the effect of nourishing appears fast – hair looks revitalized and prettier. The problem is when the hair is extremely damaged – the Moroccanoil Restorative Mask may prove to be too weak for intense repair. This flows from the fact that every hairdo needs something different so all-purpose hair masks don't work well.
Rating
Effectiveness -

75%

Composition -

80%

Package -

76%

Consistency -

84%

Price -

90%
ANALYSIS OF INGREDIENTS
Moroccanoil is the most famous for making products based on the same ingredient – organic, top-quality Moroccan argan oil. This very ingredient is really high up on the list of ingredients, coming after water and mild alcohol. This is a universal natural oil which has a gentle repairing effect, protects from the sun and heat damage, nourishes and conditions the hair. Unfortunately, this is when the benefits of the Moroccanoil Restorative end because most of the formula is made of synthetics. The word "natural" shouldn't be used, then. As far as some noteworthy ingredients go, the Moroccanoil mask contains shea butter which maintains the hydration and softness of hair, as well as exotic pequi oil – its properties aren't well-known. We know, though, that the vegetable proteins included in the mask give the repairing effect. Unfortunately, their amount is insufficient to fulfil the purpose. Generally, the formula seems rich yet its major part is made of preservatives, fragrances, etc.
PRODUCT DETAILS
The mask looks nice and it's quite easy to use. There are lots of positive opinions saying that the easy use is the best thing about the mask. A plastic jar has colors typical of the brand and houses creamy mask which really suits many hair types. It smells nice while the consistency makes it easy to use both on dry and wet hair. You should note, though, that the mask is likely to weigh down the hair in some cases because it contains shea butter. Therefore, the mask isn't one-size-fits-all despite being marketed as such. Shea butter is filled with saturated fatty acids while most hair types tolerate and need unsaturated omega acids. This may lead to the unwanted effect of weighed-down, limp-looking hair.
ADVANTAGES:
Moroccan argan oil
the mask nourishes and revitalizes
easy application
DISADVANTAGES:
it may weigh the hair down
the formula is mostly made of artificial substances
lack of intense hair-repair effect
the price is unfair considering the results