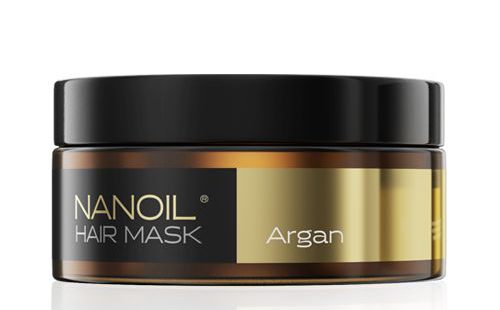 Nourishing Hair Mask with Argan Oil
Capacity: 300 ml
Price: $15
A perfect mask for all hair types. The Nanoil Argan Hair Mask is ideal if your hair is unmanageable and choosing the best products is tricky. This is one of the best hair masks if we seek an evergreen product that works no matter the condition of hair or season of the year. It smoothes frizzy strands, revitalizes weak hair and boosts gloss in dull tresses. This conditioning and beautifying formula is a perfect tool for turning the hair around.
The argan hair mask from Nanoil holds only the best essential ingredients that – if you use the mask regularly – prevent the loss of moisture and protect against the harmful factors. In other words, it revitalizes, strengthens and beautifies the tresses. Without you having to reach for other intensive hair-care products. Feel free to use it daily for hair looking as treated with in-salon masks.
Rating
Effectiveness -

91%

Composition -

85%

Package -

82%

Consistency -

89%

Price -

83%
ANALYSIS OF INGREDIENTS
The fine formula is the secret to the remarkable effect of the Nanoil Argan Oil Mask. The manufacturer made sure that the formula is based on substances guaranteeing effectiveness. The base ingredient is cold-pressed, unrefined, organic argan nut oil – one of the beauty-oil best-sellers. It is responsible for the mask's great effect because it's rich in around 100 natural substances, incl. polyphenols and vitamin E having a strong anti-oxidative effect. Still, argan oil isn't the only component in the formula because the mask is enriched with panthenol. Pro-vitamin B5 sparks faster hair repair, helps moisturize the tresses and brings out the lovely gloss. Some of you may wish the product had more ingredients, however, remember that less often means more.
PRODUCT DETAILS
The phenomenal thing about the Nanoil Argan Hair Mask? The easy-to-apply formula. This isn't the lightest mask you can purchase but it surely doesn't overburden the tresses (even if your hair is fine and delicate). You need a small amount for single application so the jar lasts long (unless you use it every day and your hair's long). The users wish the jar was bigger, all good things must come to an end… The Nanoil Argan Hair Mask should be used at least once a week on damp, clean hair. Leaving it in for 20 minutes is enough to intensively nourish and moisturize the hair. Remember to wash it out thoroughly. The usage is effortless.
The Nanoil offer includes four other masks:
Nanoil Repairing Keratin Mask
Nanoil Detoxifying Charcoal Mask
Nanoil Smoothing Liquid Silk Mask
Nanoil Hydrating Algae Mask
More at www.nanoil.us.
ADVANTAGES:
all-around mask for any hair type
cold-pressed, unrefined argan oil
easy-to-use, non-overburdening product
formula free from parabens and similar nasties
conditioning and beautifying effect
fair price for top quality
shiny, soft, smooth hair
DISADVANTAGES:
available only online
too small jar