NATURVITAL – Sensitive Hair Mask Aloe Vera Juniper Zimbro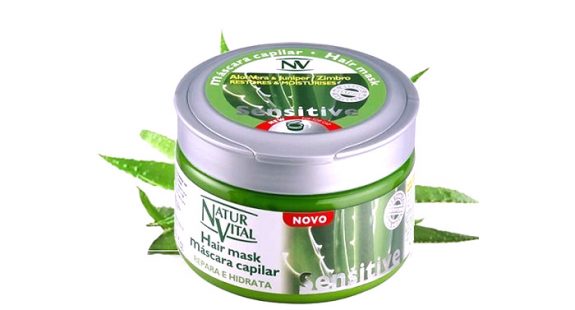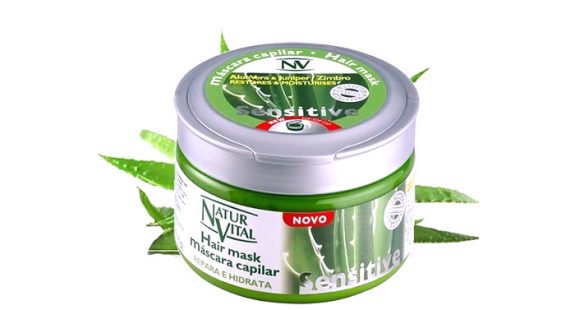 Hair mask for people who have sensitive scalp
Capacity: 300 ml
Price – $20
Aloe vera mask NaturVital is famous among women who take care of proper hair care. The manufacturer promises that the product is the best choice for those who struggle with sensitive scalp. It really works. The performance of aloe hair mask can be described shortly – soothes irritation as well as moisturises, smooths and restores hair strength, both inside and outside. I don't use the mask very often and avoid applying it to my hair for one reason. It is a cosmetic designed to perform special tasks for very delicate scalps. Any other product causes irritation and allergic reaction whereas Sensitive Hair Mask NaturVital works perfectly.
Rating
Effectiveness -

50%

Composition -

59%

Package -

51%

Consistency -

45%

Price -

60%
ANALYSIS OF INGREDIENTS
If we look at the ingredients of Sensitive Hair Mask Aloe Vera Juniper Zimbro, it is a typical humectant mask. There is no point in studying the components – a few but valuable ones. The most important is that the mask is free from dyes, silicones, parabens, mineral oils or any harmful substances. The formula is based on two basic nutrients and several additives. It is one of my favourite products when it comes to ingredients.
The mask contains a high concentration of aloe vera juice coming from certified ecological crops. The main property of the juice is deep moisturising. Aloe vera in hair care products prevents dryness and maintains permanent level of hydration. Juniper extract comes right after aloe vera juice. It controls sebum production and strengthens the hair. Antistatic agents, emollients and panthenol are also worth mentioning. They are all very beneficial to our hair.
PRODUCT DETAILS
NaturVital aloe vera hair mask comes in a jar. It surprised me but it was an unpleasant surprise. The packaging doesn't have a regular top whereas the lid fell of quickly. It isn't a problem for those who keep their cosmetics on the shelf but I travel a lot with my product so it is inconvenient. The formula of sensitive Hair Mask Aloe Vera Juniper Zimbro is very good. The mask has a consistency of a thick cream. Despite the thickness, only small amount of the product is needed to cover hair evenly. Many women complain about the scent of the mask. I find it hard to define the fragrance but it isn't that bad.
Aloe Vera Juniper Zimbro is an express hair mask. You apply it to clean and damp hair and leave on for more or less three minutes. It is surely an asset, taking into consideration that other masks usually must stay longer on hair e.g. 30 minutes. Opinions about NaturVital hair mask vary. There are those who are delighted by its action and others who are disappointed. I have been trying to understand it and found a solution. If you apply NaturVital mask to high porosity hair, your strands will get even drier. But you can apply it to hair right after oiling or mix the mask with your favourite oil before the application. Your strands will be silky smooth, shiny, moisturised and manageable.
ADVANTAGES:
effectiveness
organic ingredients
ideal for sensitive scalp
low price
express action
nice fragrance
DISADVANTAGES:
unsuitable for high porosity hair
too mild action