PLANETA ORGANICA – Black Moroccan Hair Mask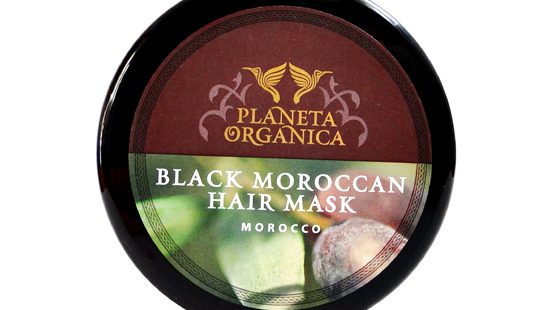 Black Moroccan Hair Mask for Hair Loss
Capacity: 300 ml
Price – $15
Black Moroccan Hair Mask for Hair Loss is one of my favourites in hair care. Planeta Organica has decided to create a product which would mostly have a positive influence on the scalp. However, it turned out to be a universal product which regenerates the hair. Planeta Organica Black Moroccan Hair Mask is supposed to strengthen, nourish and protect the bulbs. The cosmetic effectively reduces hair loss and boosts its growth. As a result, your hair is strong, bouncy, smooth and very shiny. I have tried the product on different hair types and the results are surprisingly similar.
Rating
Effectiveness -

52%

Composition -

58%

Package -

45%

Consistency -

41%

Price -

89%
ANALYSIS OF INGREDIENTS
What is the secret? The composition of Planeta Organica Moroccan Hair Mask is the key. The main ingredient of the cosmetic is argan oil which offers a very high concentration of antioxidants (including vitamin E). I have seen the oil extracted from Argania tree working wonders on hair many times. Planeta Organica Black Moroccan Hair Mask has been enriched with: neroli oil which has incredible scent and restores hair suppleness, laurel oil with complex of vitamins which nourish and protect the hair; olive oil which makes hair soft and shiny; black seed oil which is the source of amino acids essential to the proper functioning of the skin. These are the most important active ingredients of Moroccan hair mask. Apart from them, there is also eucalyptus oil and natural oregano extract.
When it comes to the ingredients, there is one thing that I like most about Planeta Organica cosmetics. Moroccan hair mask against hair loss is free from SLS, parabens and other damaging substances. It can pride itself on having Eccocert certificate which guarantees that the product is organic. There is also a small amount of harmless silicones. I would like to allay any doubts concerning silicones. They are harmless if they are safe and not overused. Planeta Organica hair mask contains exclusively safe ingredients, including emollients so feel free to use it without any worries.
PRODUCT DETAILS
I have no idea why the mask has the name Black Moroccan – surely not due to its colour. The product is green and has thick consistency. By the way, the consistency doesn't make the mask hold out long but the price is low. The colour as well as the fragrance of the mask aren't encouraging. I don't like strong and suffocating fragrance of men's perfume that the mask offers. However, I worked with girls who liked the scent very much. Some bloggers find it fresh and oriental.
The mask works very well on hair. Spreading the product on damp strands is trouble-free. It is recommended to leave it on for more than 15 minutes but the fact is that the mask starts to work after 10 minutes. The product defines curls, adds volume and bounce. Planeta Organica Black Moroccan hair mask makes hair easy to detangle and style, which has made my work before fashion shows much easier.
ADVANTAGES:
fast action
good effects
natural and emollient ingredients
organic certified
low price
DISADVANTAGES:
too strong scent
not very efficient
colour is not very aesthetic